JOHANNA PARKER'S CARNIVAL COTTAGE VINTAGE HALLOWEEN PARTY
"Vintage Halloween" is the perfect party theme for those who adore mystery, charm, and spooky-cute characters. For years, we've been inspired by the beautiful and nostalgic vintage Halloween decorations from Johanna Parker. So, we were thrilled to throw a classic vintage Halloween party featuring pieces from her new Carnival Cottage party collection!
From the primitive place settings to the gooey ghost pops, we're sharing all the details from our retro Halloween bash. On top of that, we had the pleasure of interviewing Johanna Parker herself, so readers, you are in for a real treat! Here are our best tips, tricks, and treats for vintage Halloween.
To start, we set the tone of our celebration with decorations that evoke the spirit of vintage Halloween. From vintage candle holders to creepy knick-knacks, there are many ways to bring an old-fashioned flair to the now. We suggest incorporating vintage Halloween figurines and collectibles to really capture the essence of the theme.
This Johanna Parker black cat lantern is one of our favorite pieces, so we wanted it to be our focal point. We asked Johanna if she had a favorite amongst her various darling characters, and our preferences are spooky-similar!
"It's tricky to pick a fave [character] as they are all so special to me," began Johanna. "Out of the JPD family, I will always be partial to our Grinning Cat character, inspired by our sweet Black Cat Jack. He was my muse for 22 years and continues to live on through our art while haunting our hearts."
"I am so grateful that he joined us, and at such a critical time," she continued. "He inspired me to create the classic smiling black cat character that has become a signature to our brand and an icon today."
We used our beloved black cat lantern as the vessel for a season-forward orange floral bouquet. Floral arrangements bring a hint of sophistication to any occasion. Though not typical for Halloween, they fit in wonderfully when placed in and around on-theme accents.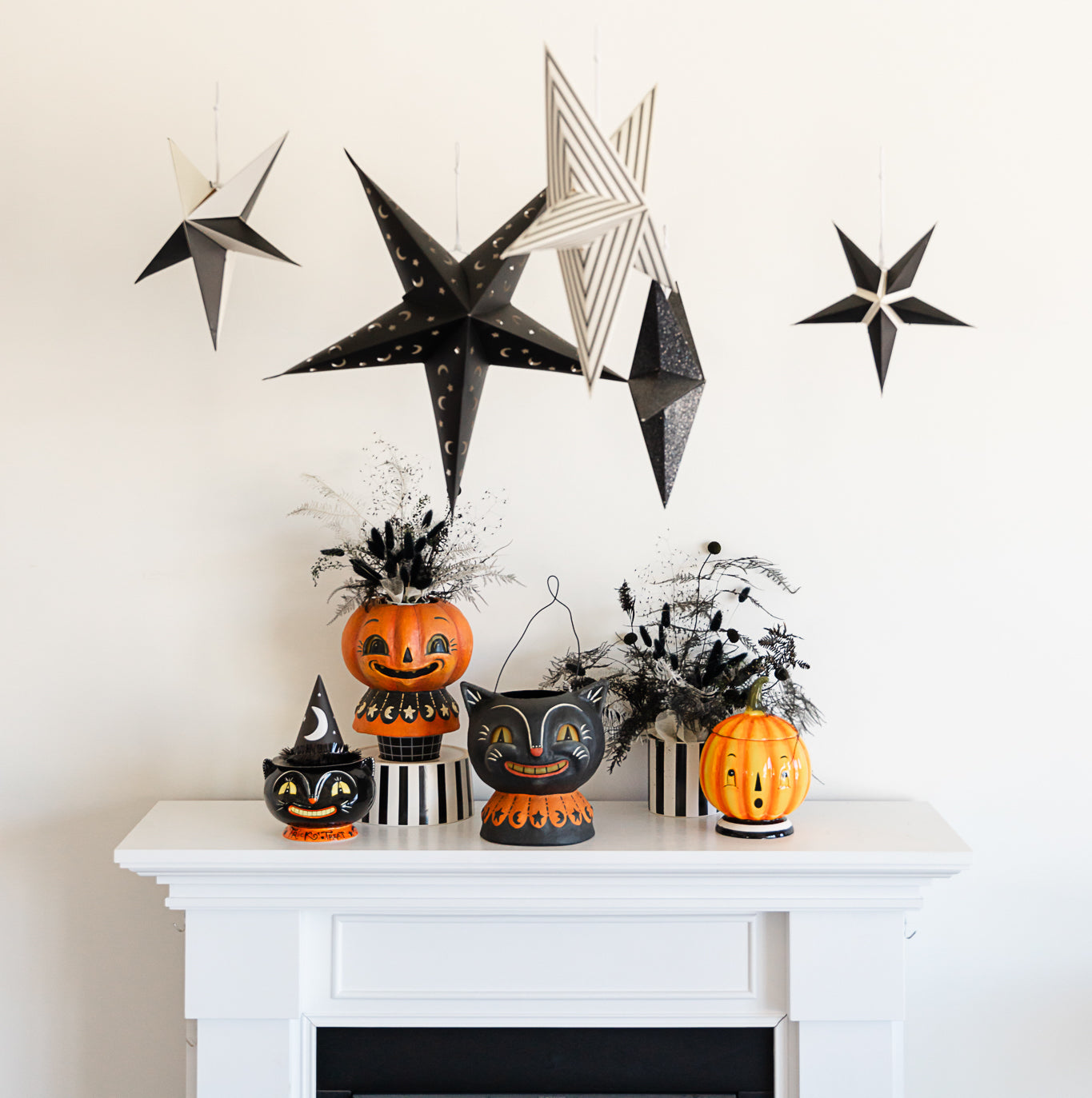 For example, we decorated our mantle with moody dried florals, figurines, and black and white hanging stars. Blending both eerie and elegant elements together is key to curating the ultimate vintage Halloween ambiance.
As far as other party decorations go, anything spooky and nostalgic is ideal. We looked to ensure our setup remained light and whimsical, so we added a simple balloon installation above the party table.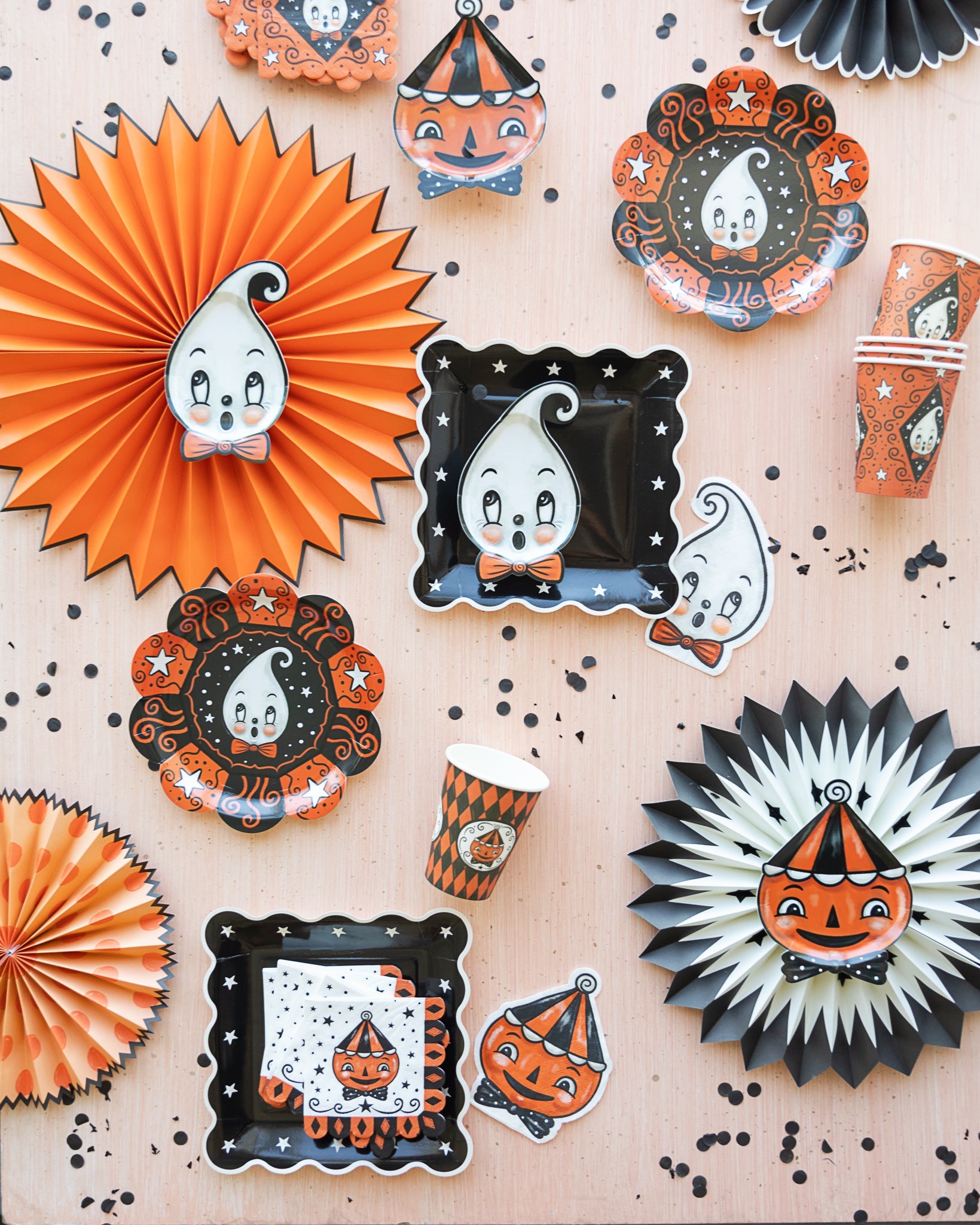 Johanna Parker's Carnival Cottage Party Collection features kooky characters in classic Halloween colors. When asked about the inspiration behind it, Johanna shared that it can all be traced back to October 31, her birthday!
"I was born on Halloween," she began. "Thanks to mom, sweet childhood memories of costume parties and artfully made Halloween cakes have always tickled my imagination with dreams of creating partyware collections in the future."
"The art was actually pulled from the original illustrations that I've drawn to make our Carnival Cottage figural ceramics," Johanna explained. "The faces are often framed with my vintage style Halloween carnival spin, where scallops, dots, stars, and swirls come together to create a festive scene. The overall vision was to set a spooky sweet table with partyware that would pair and coordinate with our ceramic items as well!"
The perfect embodiment of vintage Halloween, we made sure our tablescape showcased as much of the collection as possible.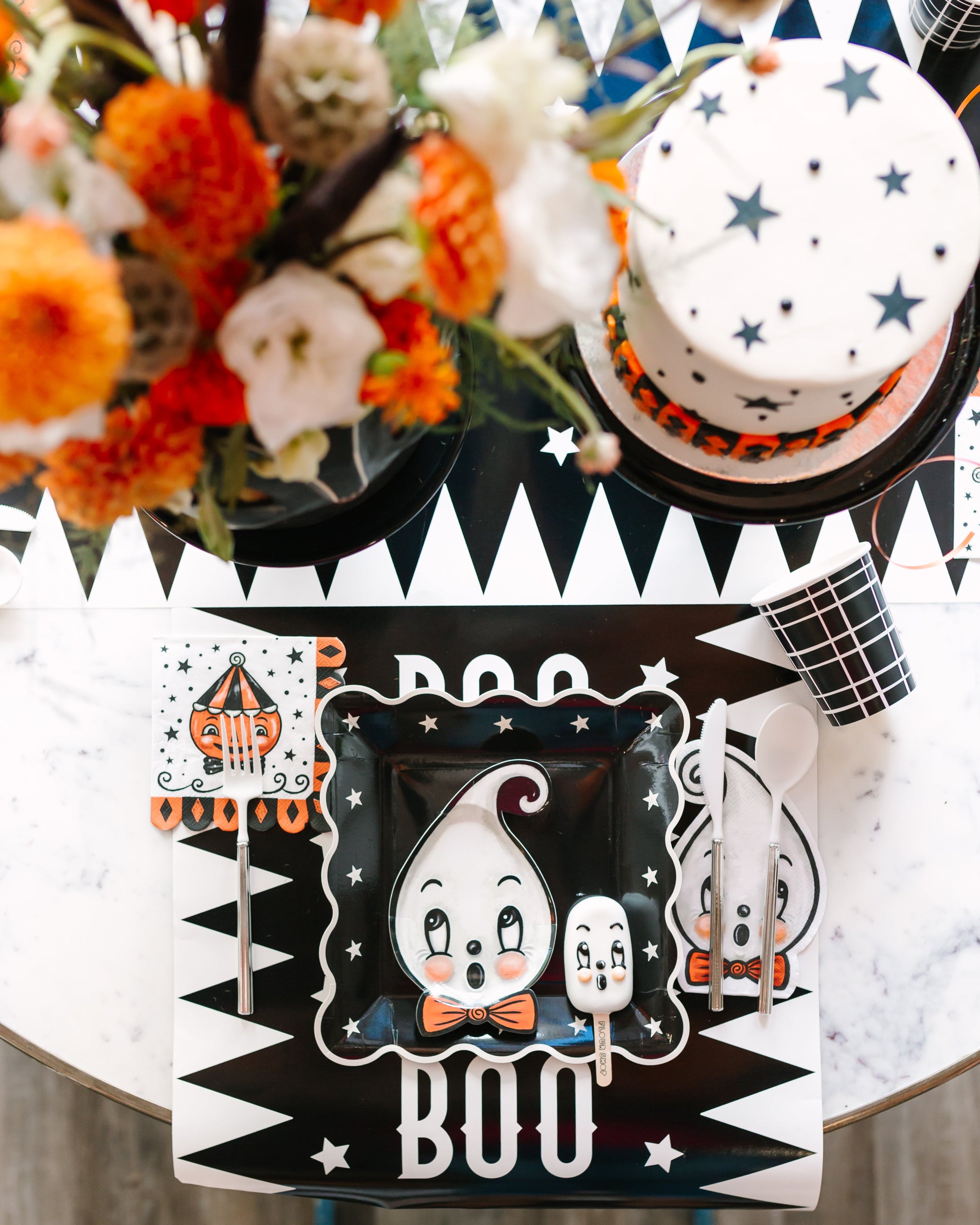 We began with a black and white runner and scalloped plates as our base. Then, we alternated her scalloped round ghost plates and the ghost-shaped canape plates at each setting. The most eye-catching vintage Halloween tables have lots of layered elements. So, it's best to use a variety of different plates and napkins. 
We embellished each place with the ghost-shaped napkin and the coordinating scalloped napkin. The carnival cottage collection features a variety of characters, so we swapped in some scalloped pumpkin napkins for a little variety. 
We asked Johanna how she continues to come up with new designs and characters each season. "Designing and creating for me has always been innate," she explained. "At just a few years old, I was drawing characters in scenes, and I feel very blessed to have an active imagination where ideas freely flow."
"Through simple focus," she continued, "I can tune into that creative channel, and new ideas begin to manifest. Sometimes I feel like an interpreter of sorts, turning visions and wishes into form, from those who dream and align with me."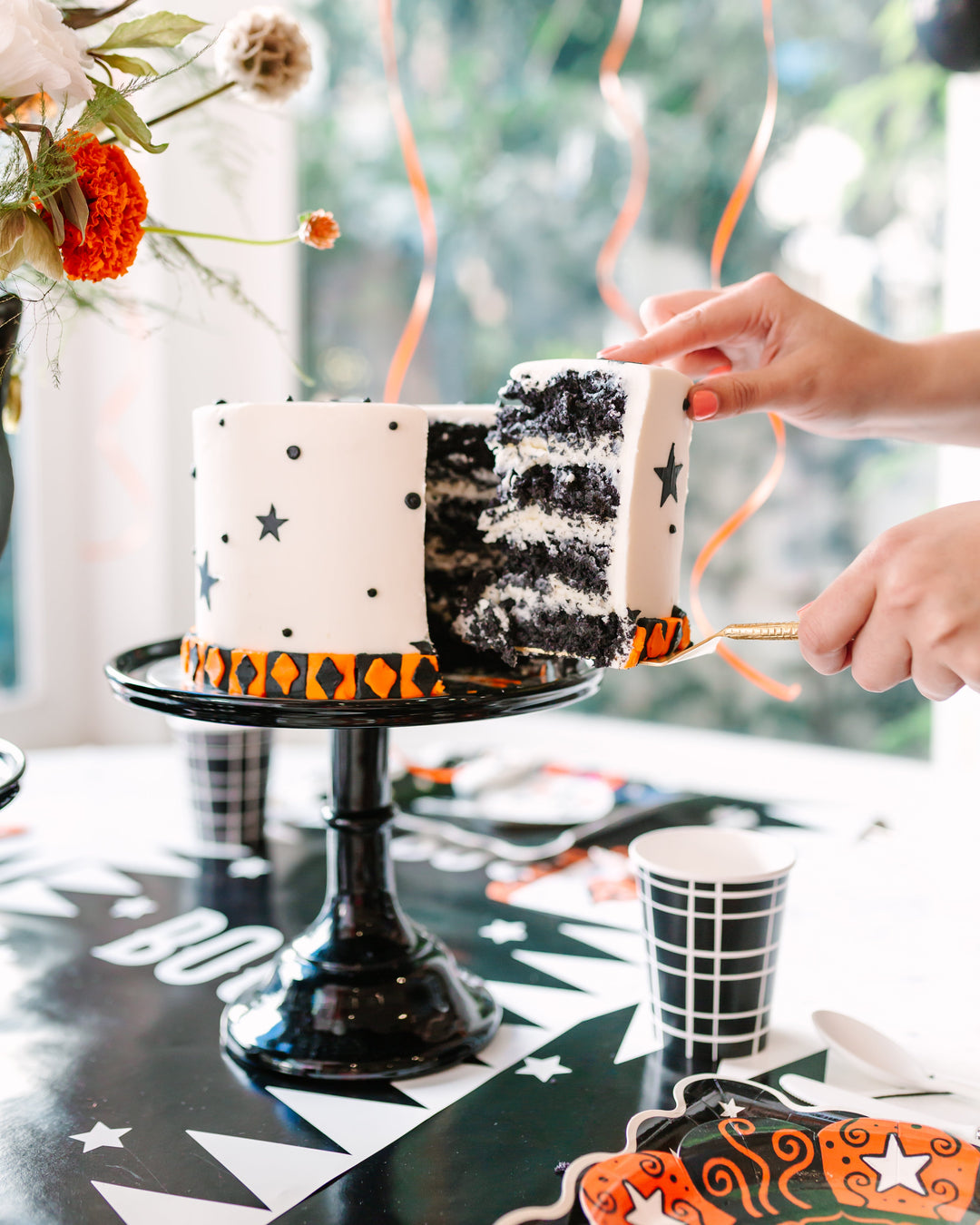 The inspiration we drew from this collection went beyond the tablescape and into the treats. Our talented friends at Flour Shop made an assortment of desserts mirroring the colors and designs from the tableware.
They even created some spooky-cute cake pops made in the likeness of Johanna Parker's iconic ghost character. 
While we ensure every party we plan has a full dessert spread, we consider it crucial for Halloween gatherings. We recommend serving a variety of sweets and passing along any of the extras to trick-or-treaters!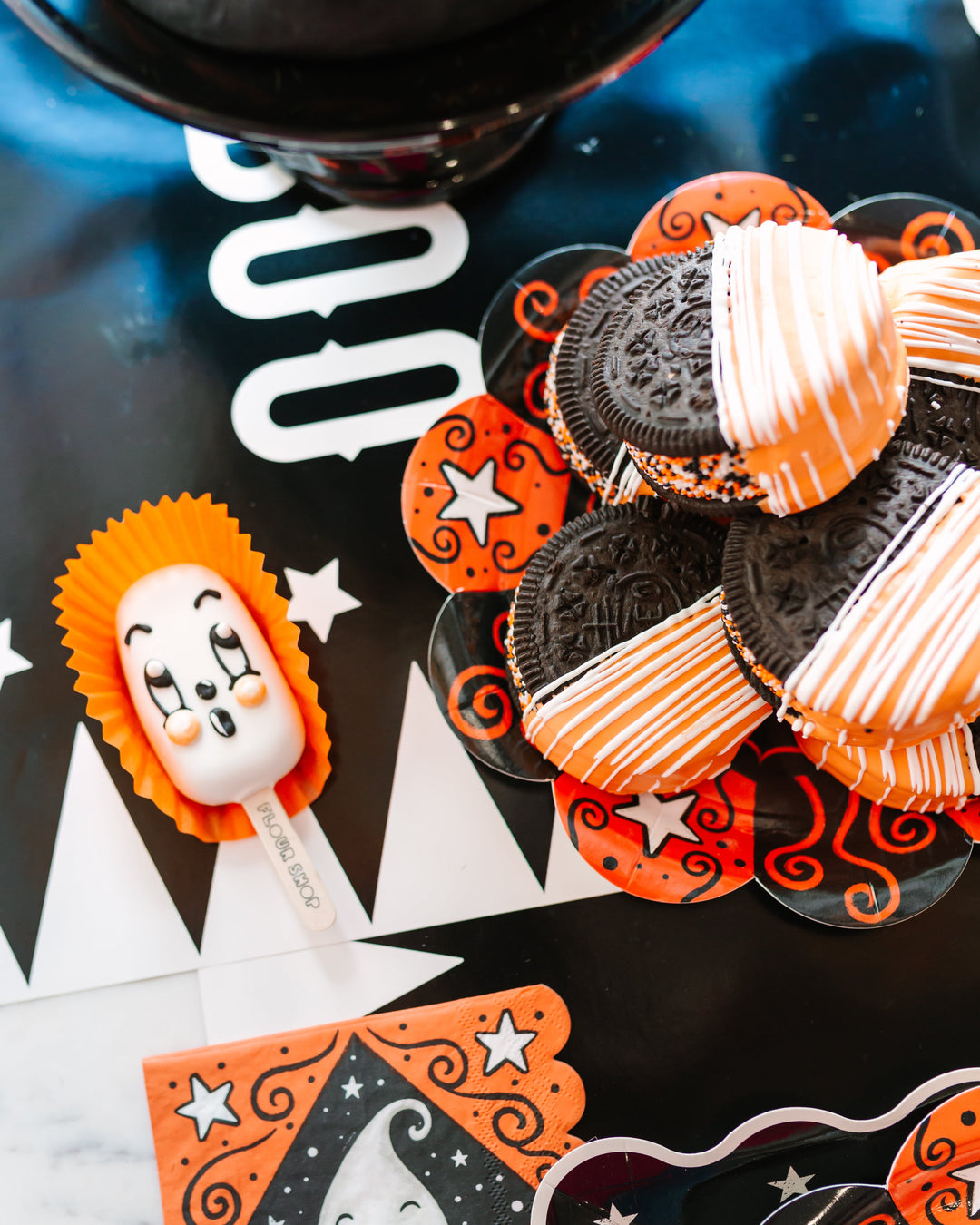 We concluded our interview by asking Johanna Parker how she celebrates Halloween. "By the time October 31st rolls in, I'm ready to relax and put my feet up for my Halloween birthday," she began. 
"Occasionally, we will celebrate by dressing in costume and going out for a yummy bite. Often though, it's a mellow night at home with spooky vintage tunes, candles aglow, and a homemade chocolate torte or other sweet confection to share." 
She also noted that much of her home is occupied by Halloween products throughout the year. " As we photograph and market those spooky delights from January through Halloween, the lines do blur between the holidays and the seasons," she shared. "Every day is touched by Halloween in our home."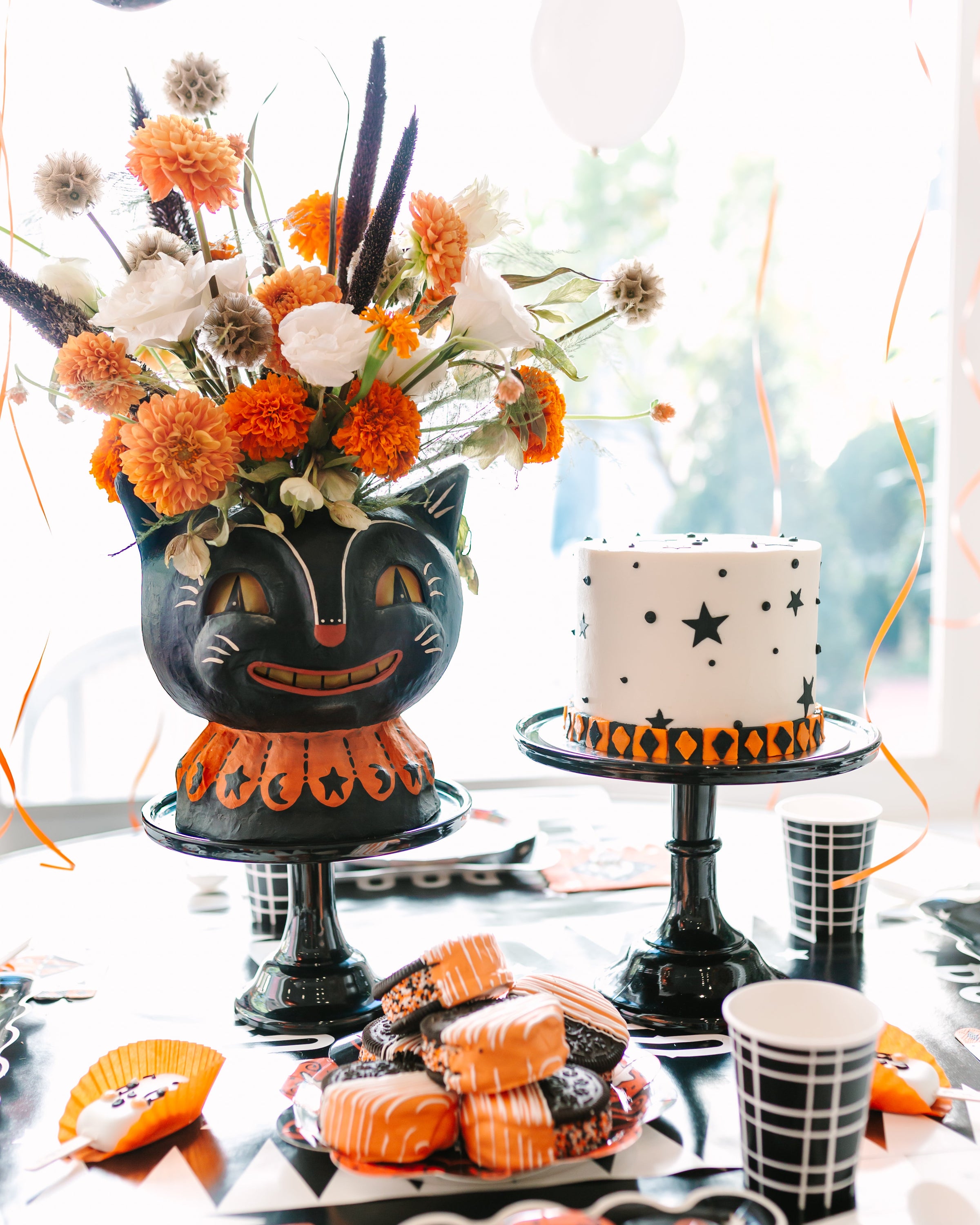 We hope we've inspired you to embrace the whimsical wistfulness of vintage Halloween. For more party ideas and decoration inspo, check out the rest of our Halloween collection!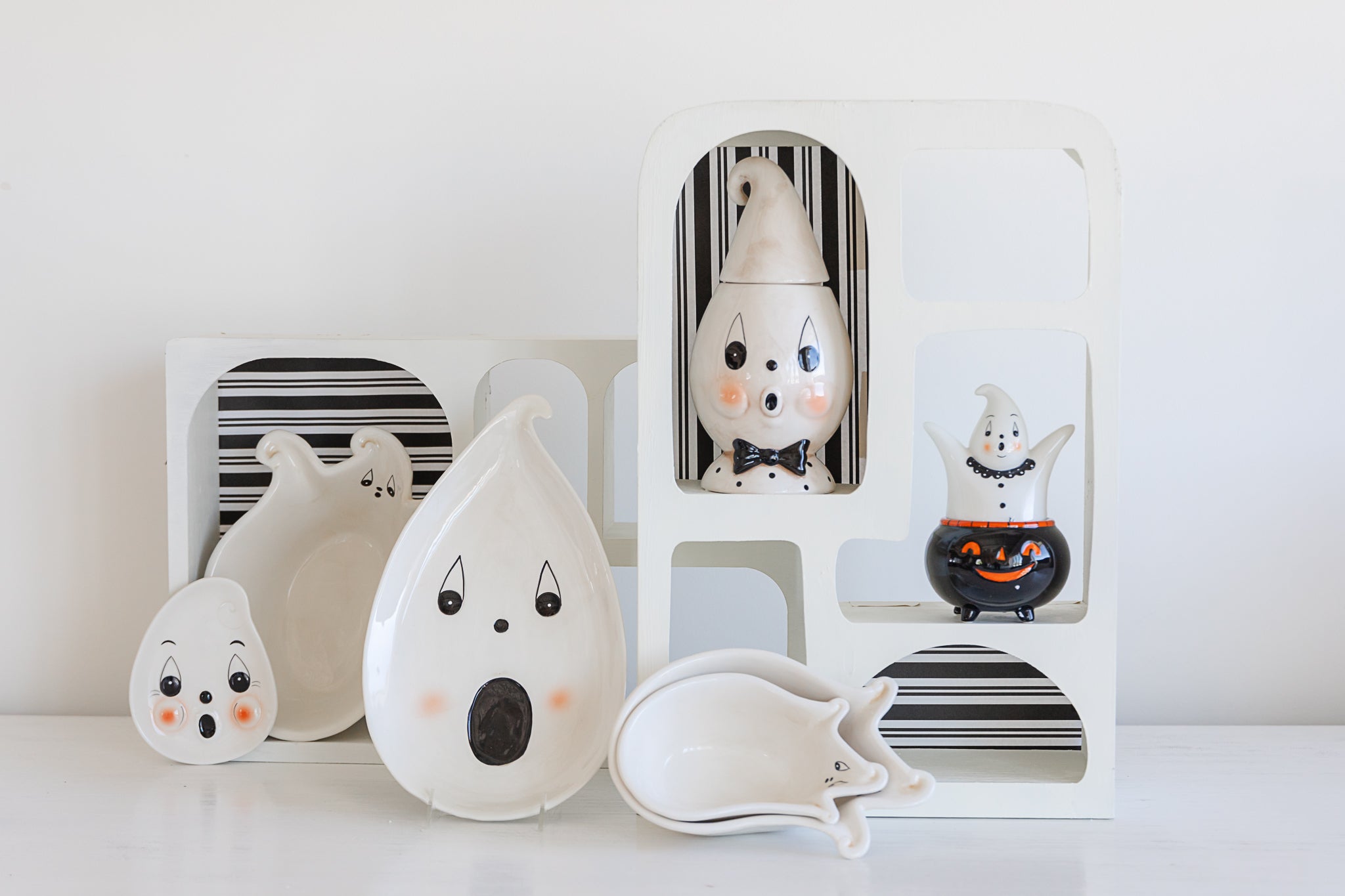 On the haunt for more Johanna Parker? Become an SMS subscriber to be notified about our exclusive Johanna Parker flash sale!
SIGN UP HERE