HOW TO HOST A GINGERBREAD HOUSE DECORATING PARTY
Gingerbread house decorating parties are full of sugar, spice, and everything nice! If you're looking to start a new tradition this holiday season (and gather some expert decorating ideas), we've got you covered. 
We're sharing our sweetest Christmas party tips and must-have gingerbread Christmas decorations. So run, run, run (as fast as you can) to learn how to host the best gingerbread party south of the North Pole!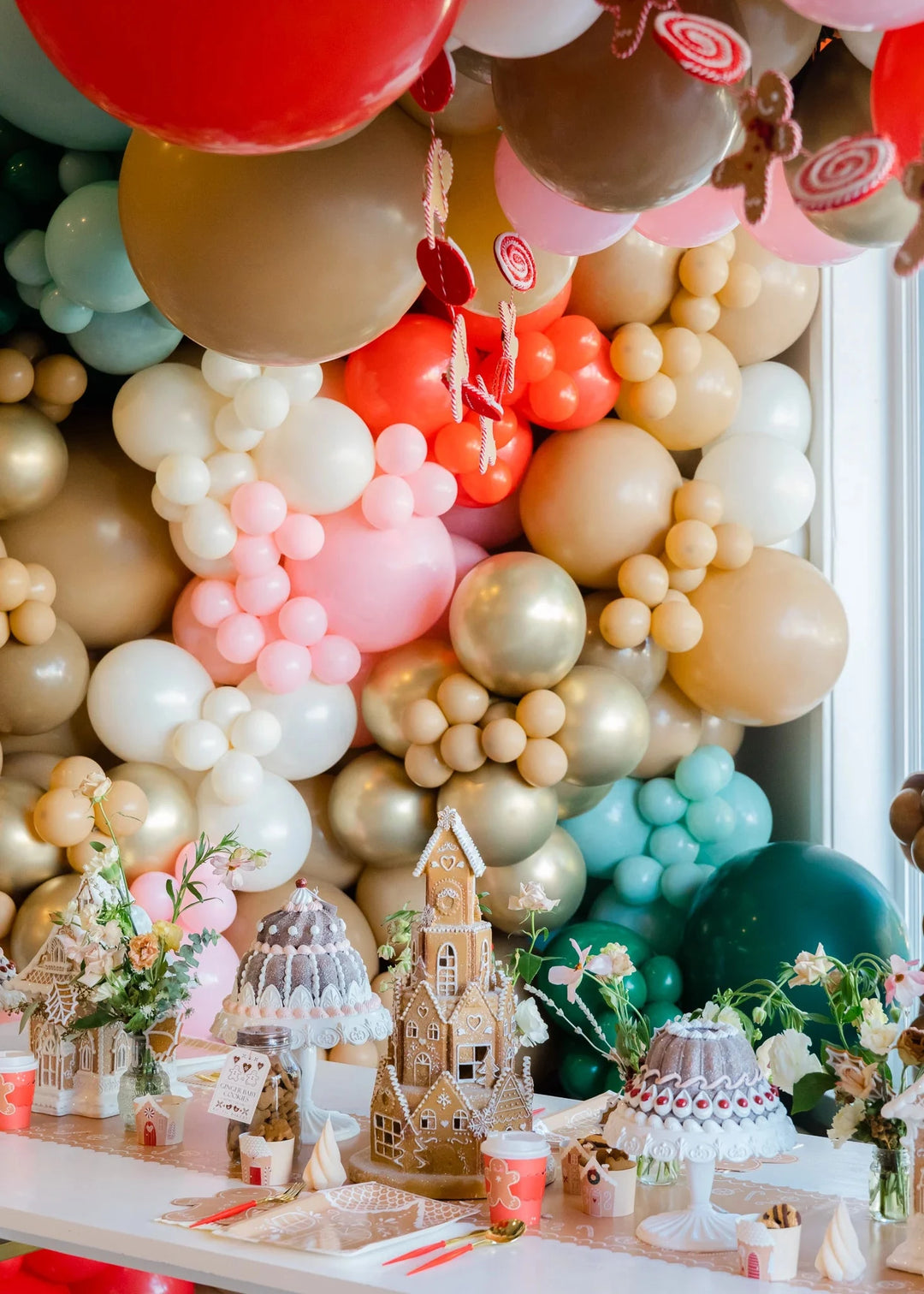 Just like there are endless ways to decorate a gingerbread house, there are endless ways to decorate a gingerbread house inspired party. Go all out with a gumdrop-inspired balloon arch, or keep things simple with a few gingerbread party fans. As long as the atmosphere is merry and bright, your party guests will feel the same.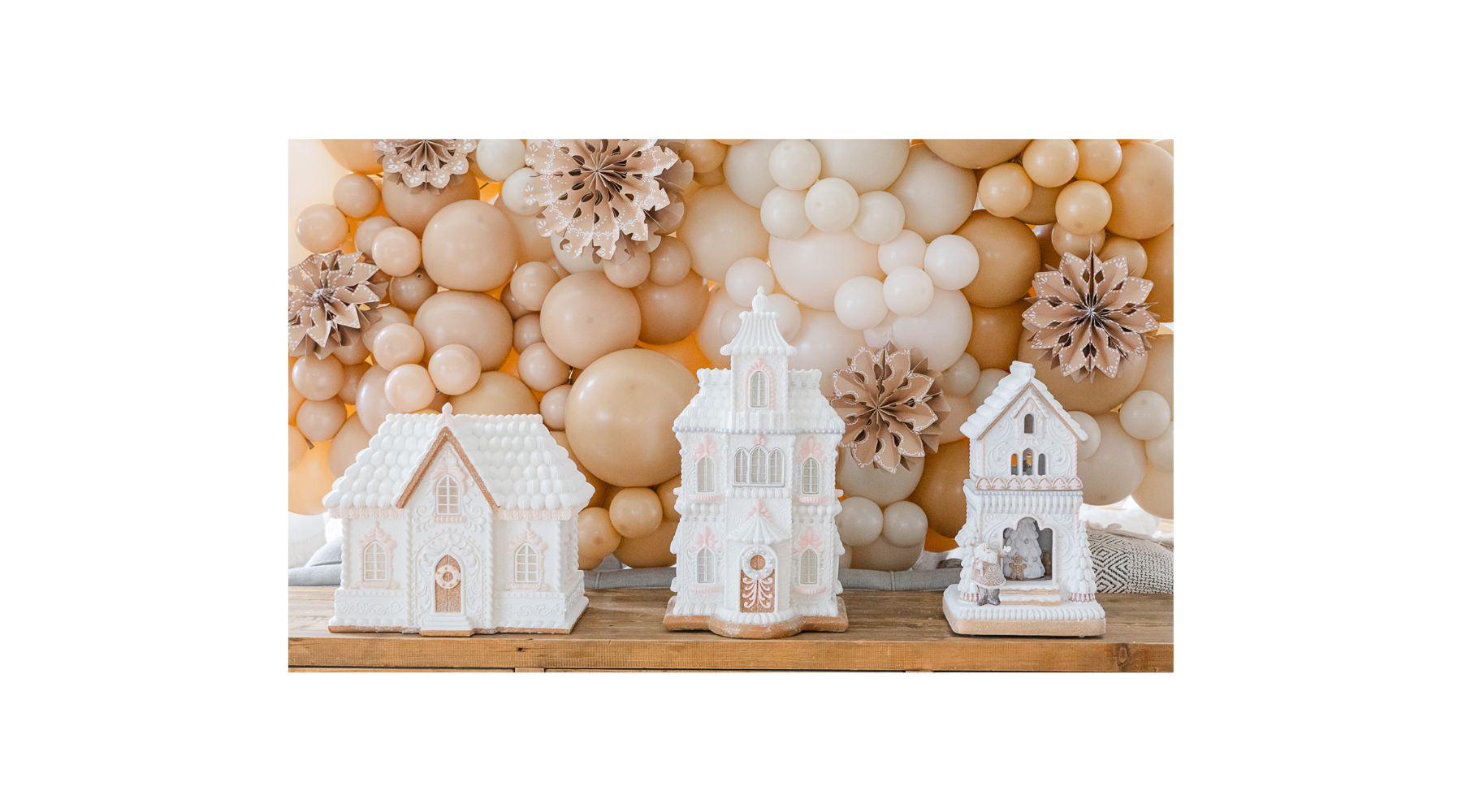 To really sugarcoat things, bring the gingerbread decor to the Christmas tree. Simply sprinkle a few gingerbread sprays and bustle some frosted ribbon and your tree will look sweet enough to eat!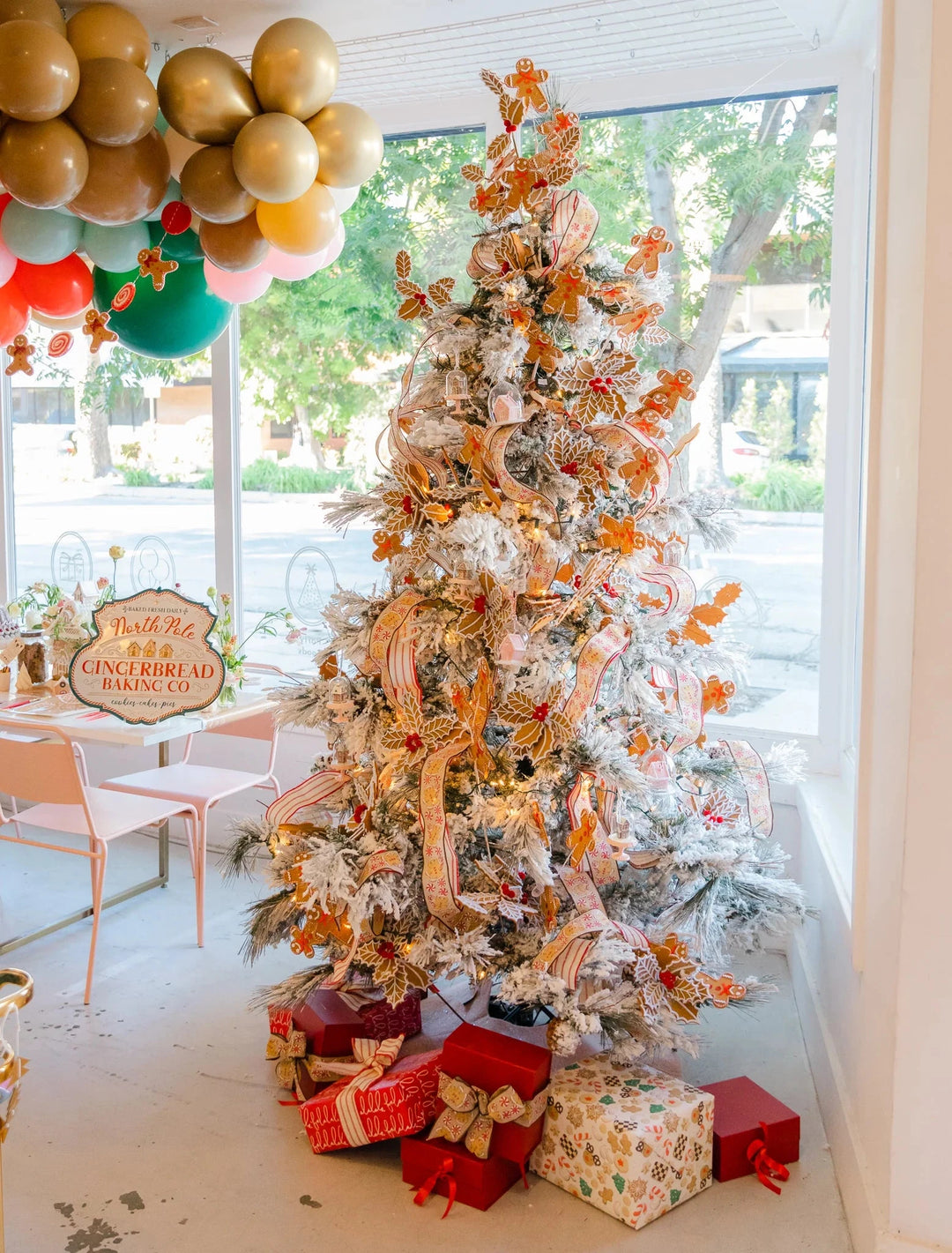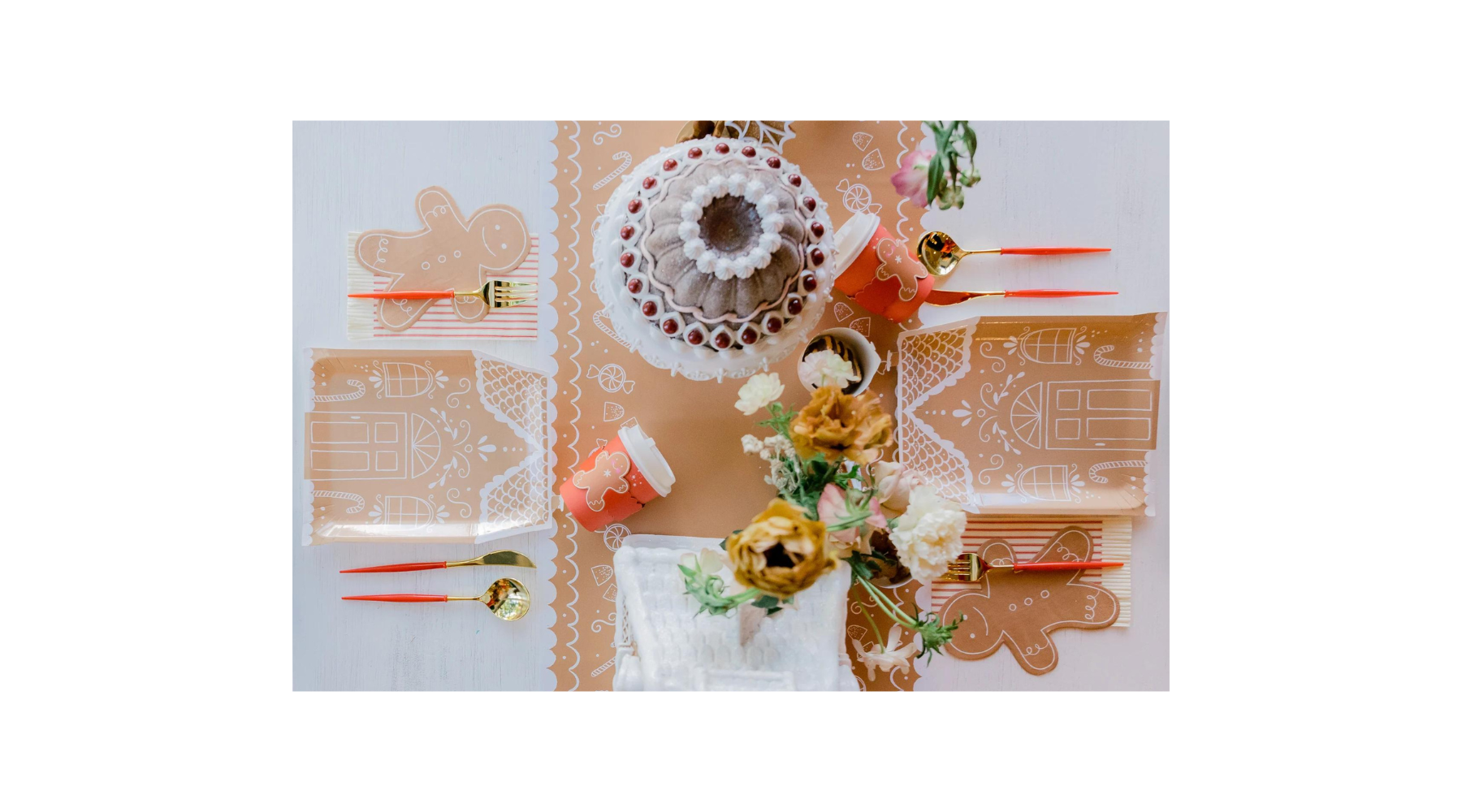 Plan the rest of your decorative efforts around where the festivities will take place–the dining table! To start, we suggest lining the work area with a paper table runner. Not only will this elevate the space, but make cleanup a breeze. (And it'll save your nice tabletop from any mishaps with the royal icing!)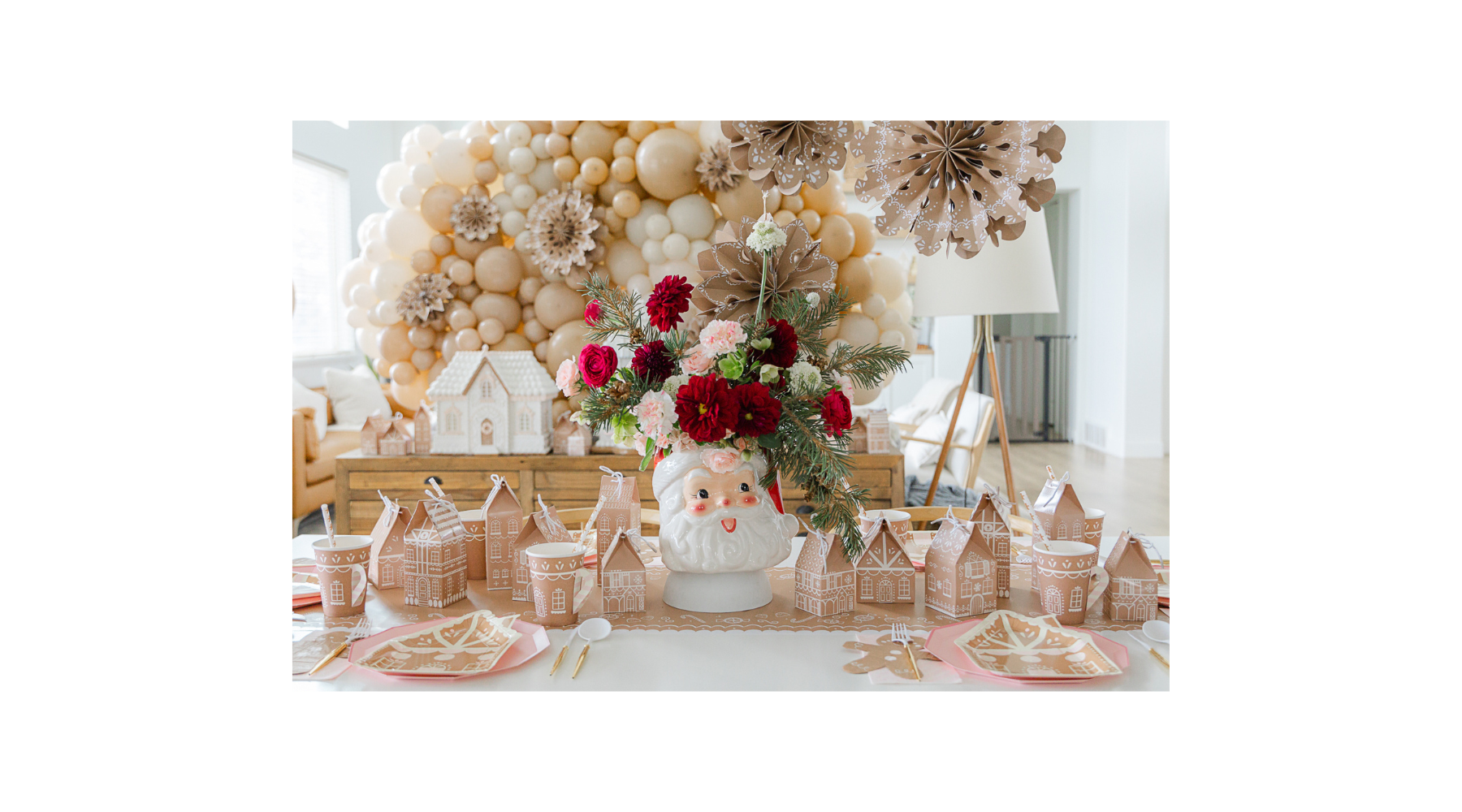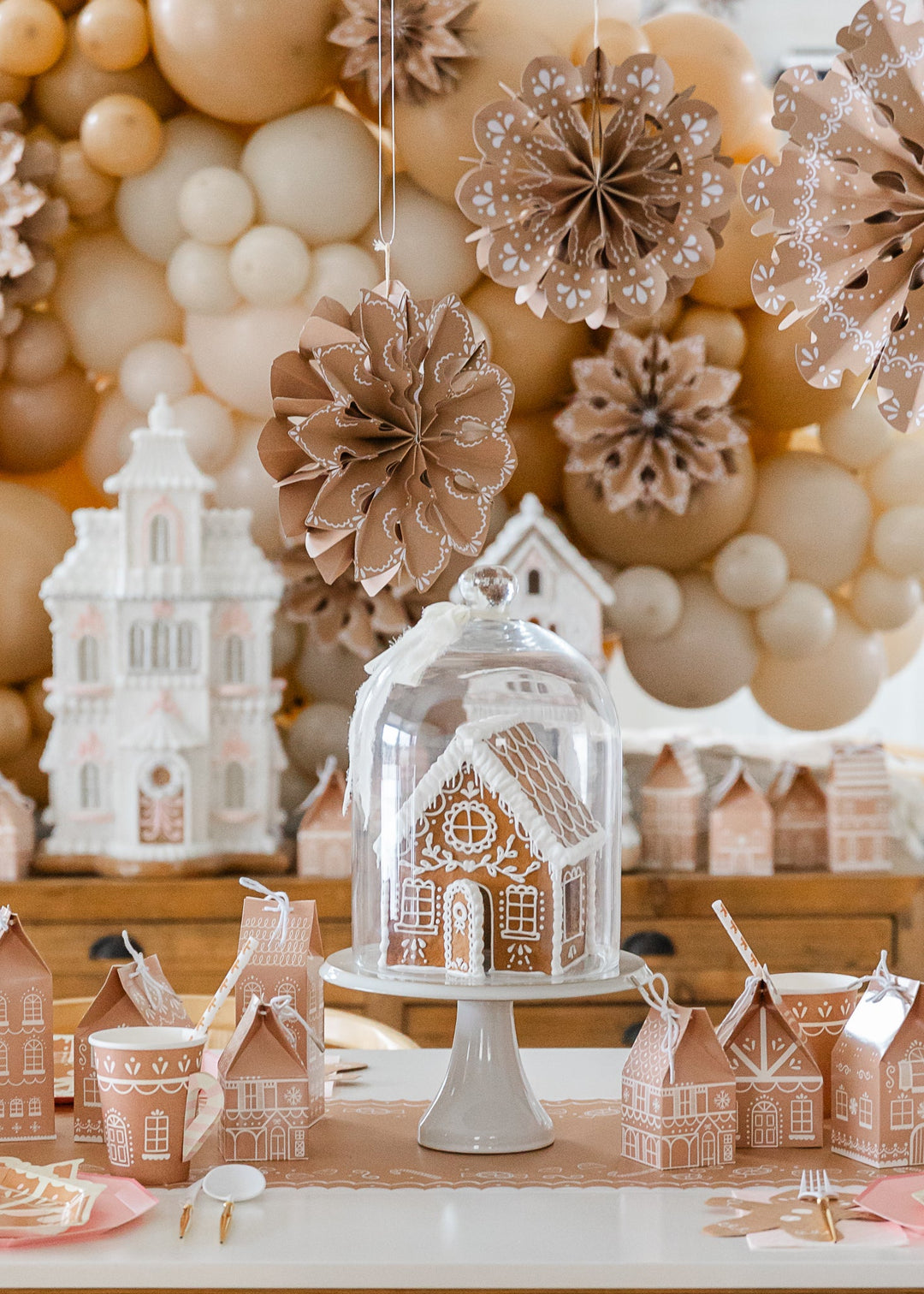 To get the building party started, be sure to have each place was primed with the necessary supplies. Our friends at Judy's Gingerbread have phenomenal pre-made gingerbread house kits that contain everything you'll need to create the perfect house. So, if you want to keep the gingerbread construction easy, (but still Architectural Digest-worthy), we suggest grabbing a few for your fête!
Although Judy's kits come with all the essentials, it doesn't hurt to stock up on extra embellishments. These gingerbread house food cups are perfect for holding all of your exterior design supplies– AKA: candy canes, gumdrops, and licorice twists. We also recommend picking up some mini gingerbread cookies. (Every gingerbread house needs a few tiny residents, right?)
After you fill your food cups with decorating supplies, be sure to disperse them across the entirety of the table. This way, everything is within easy reach for each guest. If you're feeling fancy, you can even whip up a candy charcuterie board or two for your guests to grab and graze from!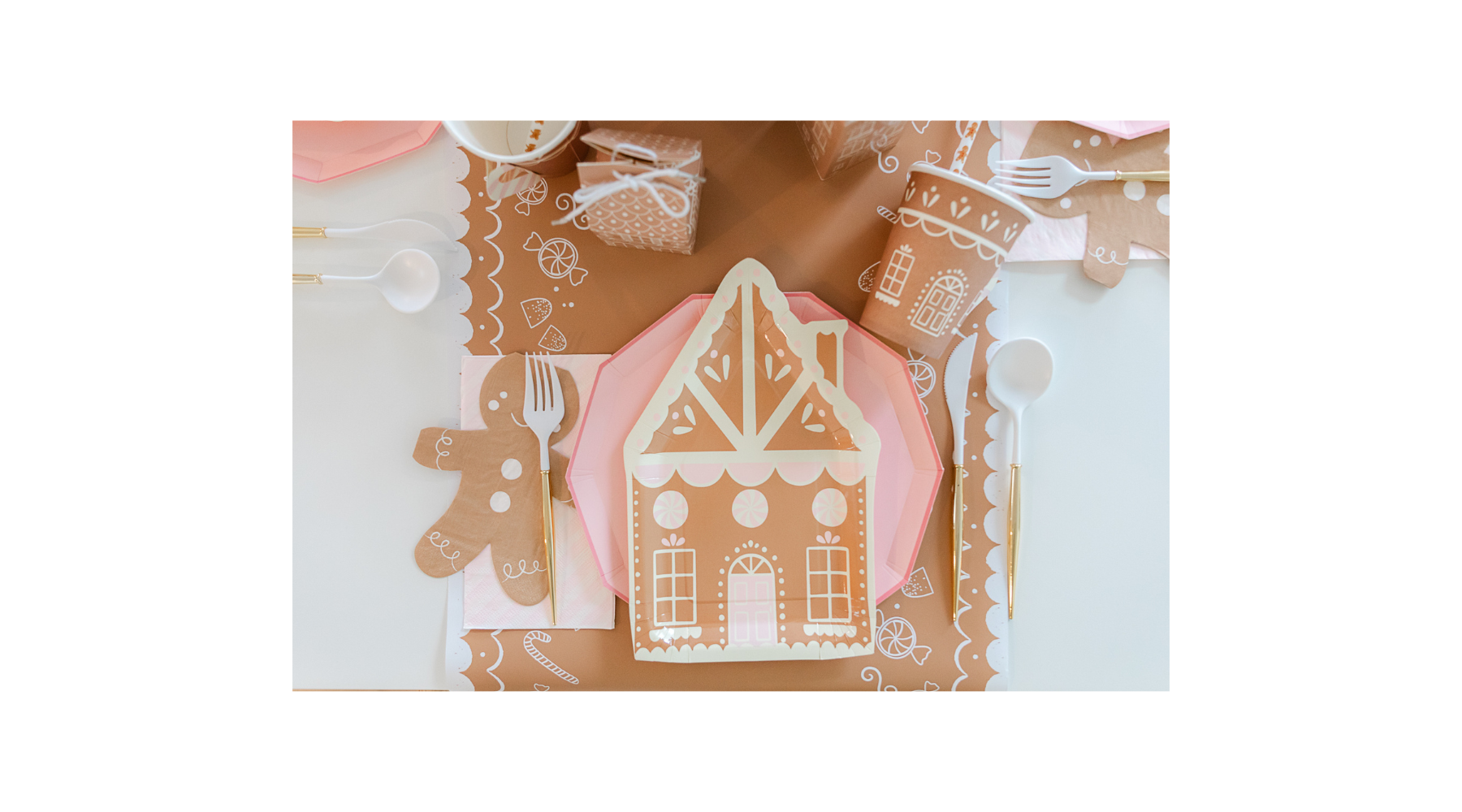 Though there are plenty of gingerbread cookies and candy to nibble on, it's a good idea to have a little more on the menu. That's why we recommend having some cute paper partyware on standby, even if you don't plan on making place settings.
We love this pastel gingerbread plate and gingerbread man napkin duo. With their simplistic design and whimsical frosting details, they pair wonderfully with a variety of Christmas color palettes. We decided to play up the pastels and layered our Signature Petal Pink Premium Dinner plates and these striped guest towels underneath.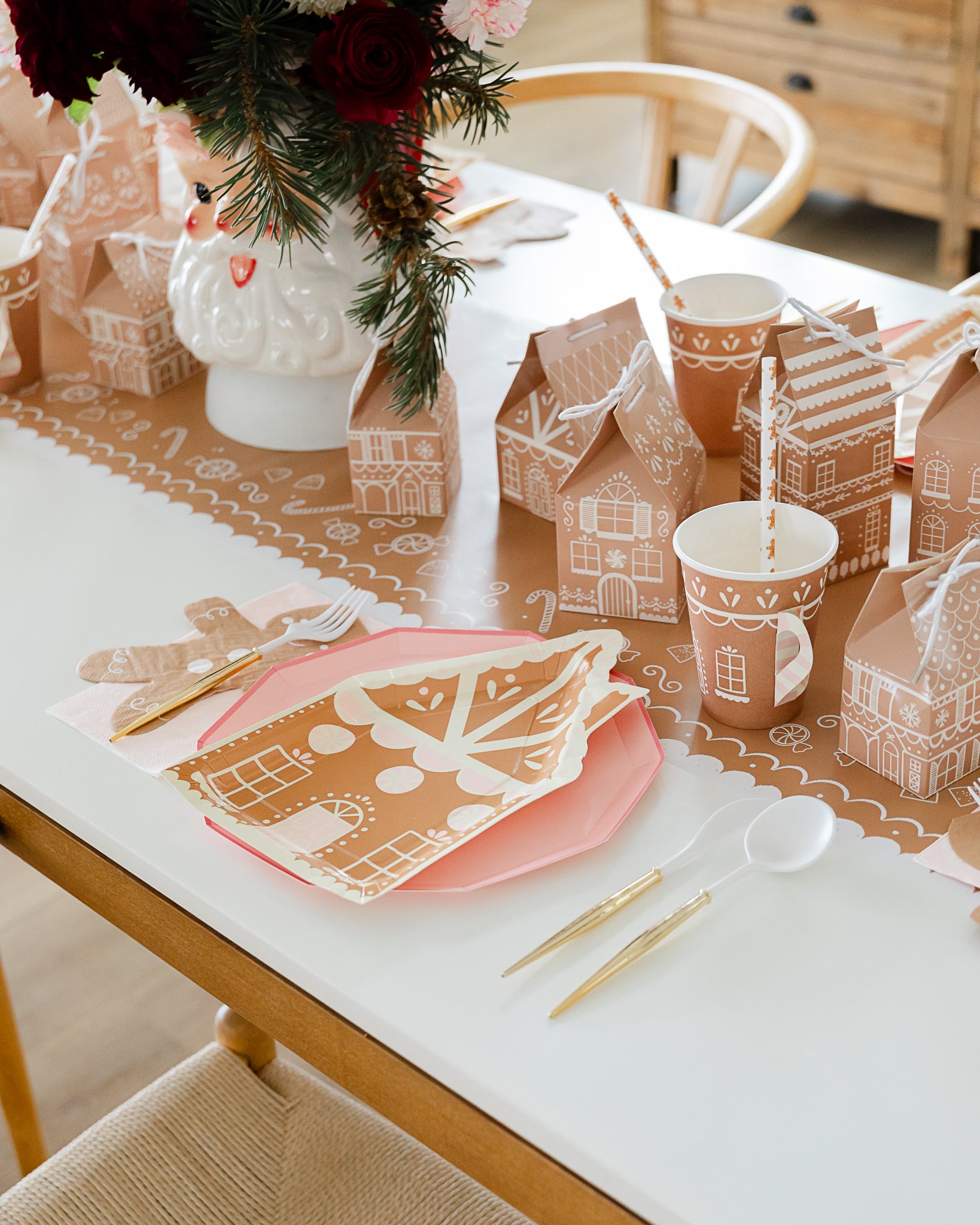 The one rule of gingerbread house parties is that there are no rules, so feel free to mix and match as you'd like. You can gather all the basics with our pastel gingerbread Christmas party kit and add on whatever jingles your bell.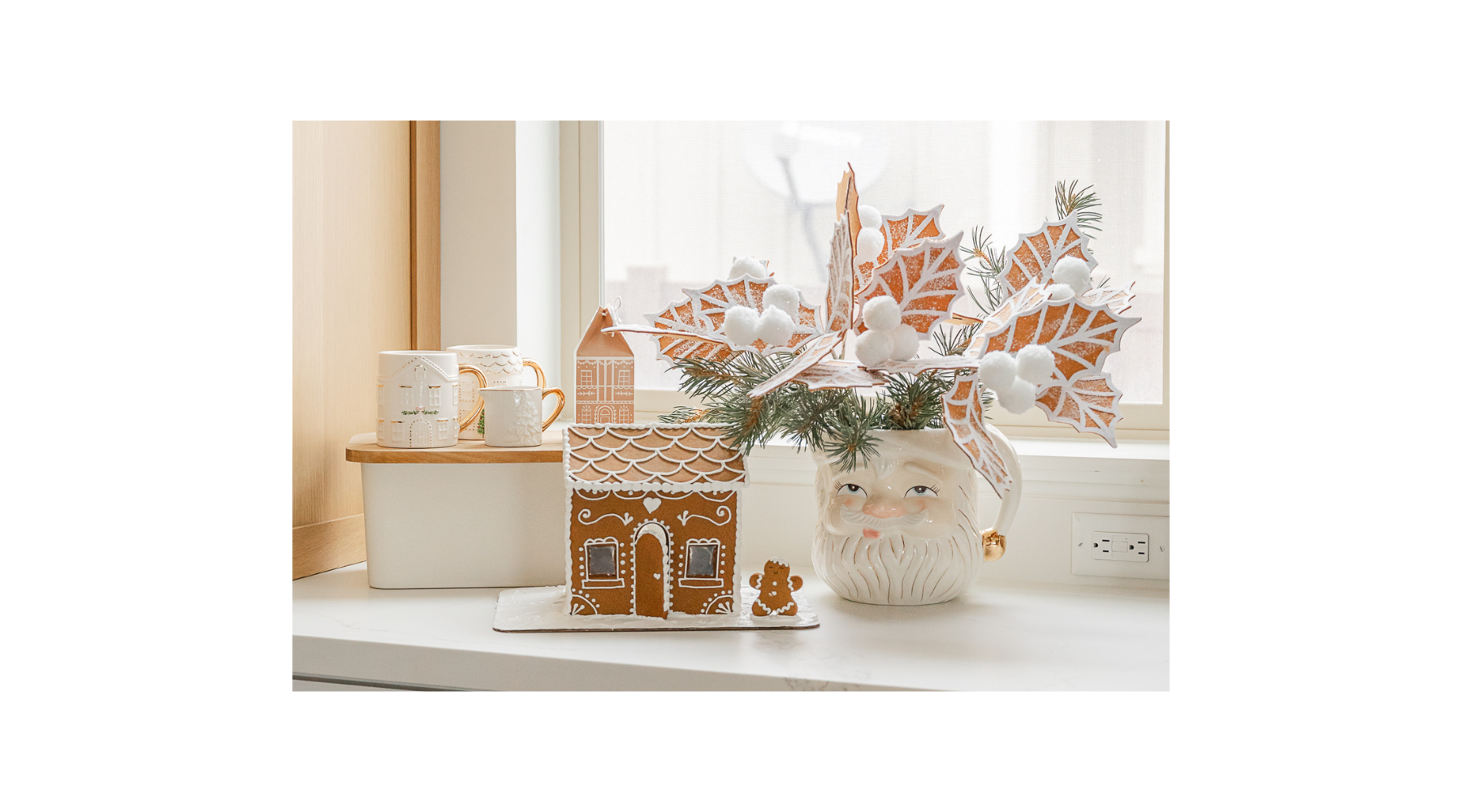 We hope we've inspired you to host your own gingerbread party this holiday season. For more Christmas party ideas, check out the rest of our holiday themes here. From our fête to yours, Happy Holidays!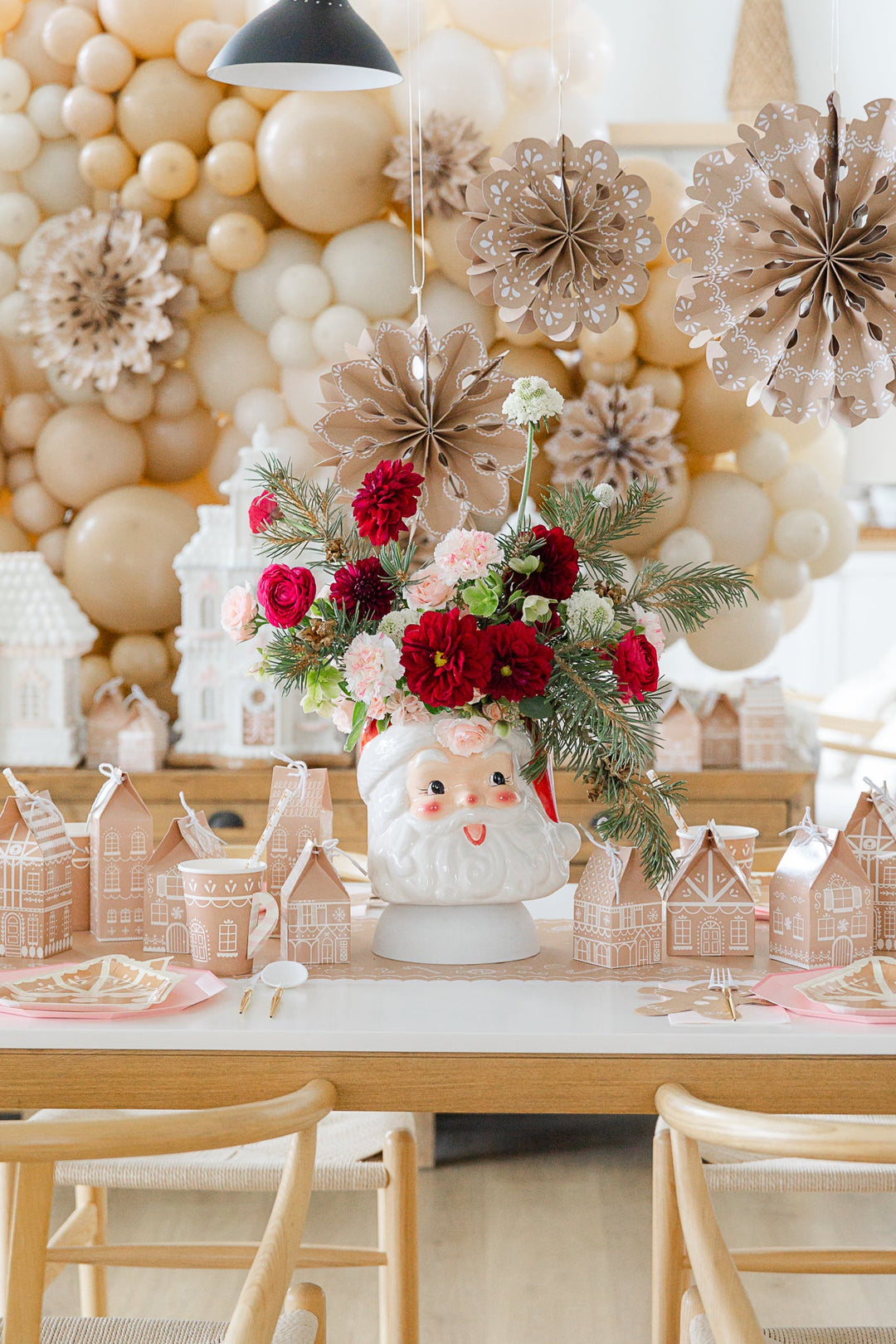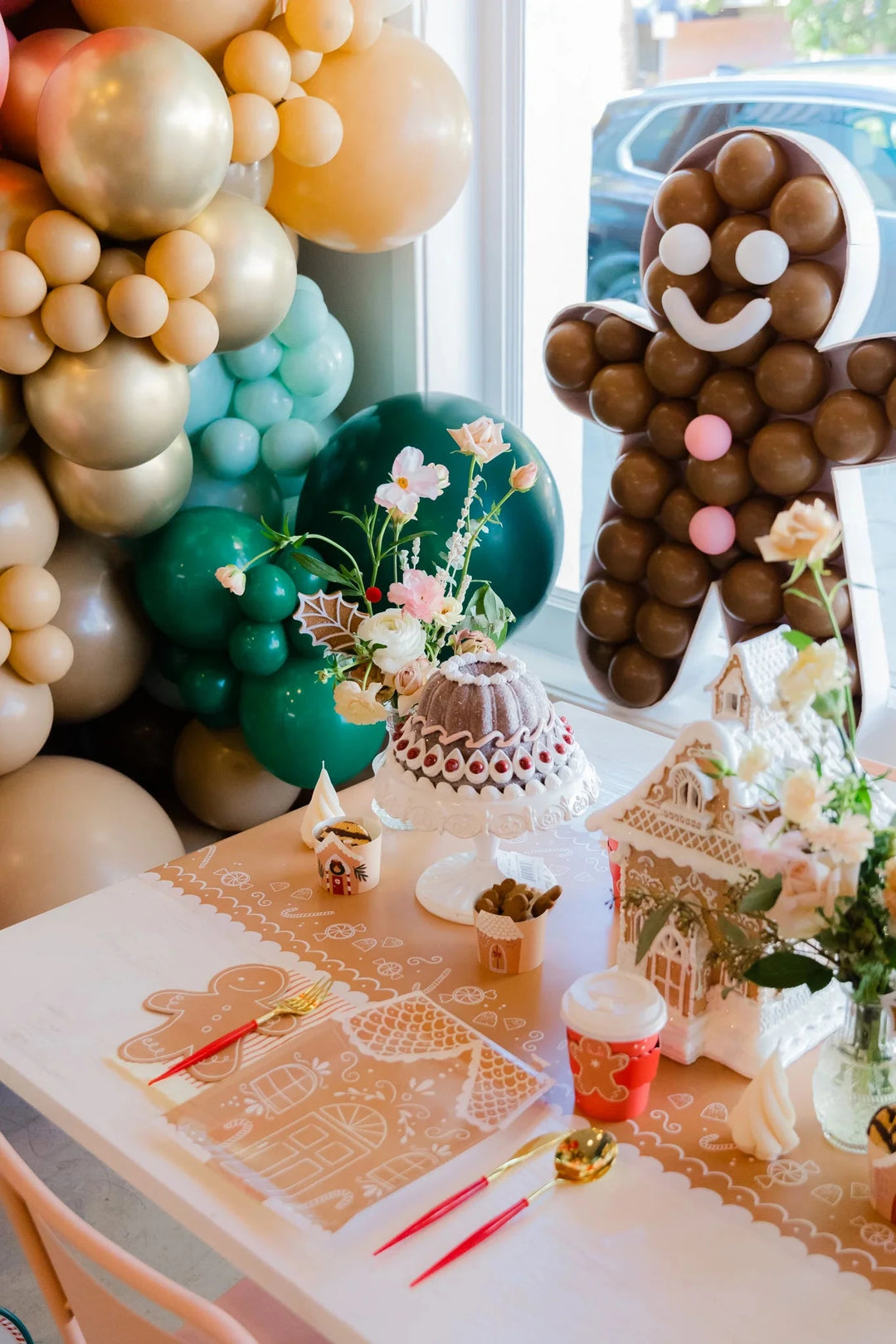 In addition to providing the very best in party supplies and party ideas, Bonjour Fête also offers affiliate marketing programs! Make paid commissions on editorially chosen products purchased through our affiliate links on your site. Apply now!